For the full article visit:Using Securly Classroom on Windows and Mac Computers – Support
A few items of note about using Classroom with this new capability:
Classroom is based on the Chrome extension, so it only works in Chrome browser (or other Chromium-based browsers that load extensions).
The extension will load when students login to Chrome with their school account because this is where you've configured it to load in Google Admin.
Sync must be turned On.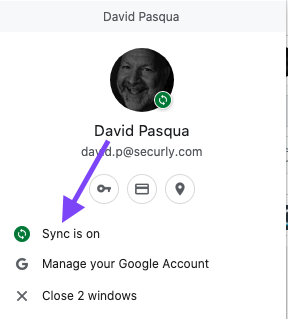 This should work on both Windows and Mac.
Visibility is ONLY offered inside the browser window. It is not possible to see the full computer desktop or anything happening with other apps, other browsers, or even in other Chrome user sessions that are not logged in or that are logged in with a non-school account like a personal Gmail account.
Because of the item above, some functions like Screen Lock are of limited use in this environment because the student can simply use another browser. If used on school-owned Windows devices in the future, this could be mitigated by applying a policy that restricts other browsers and requires a school login, but that's not possible on a personally-owned device.
Remember that class sessions can still ONLY be started during the configured school hours, preventing screen view or browsing history review during non-school hours. This helps address privacy concerns.
In the future, we may be releasing a native Windows client that will allow visibility of the entire desktop for use on school-owned Windows devices.
Even though Classroom only provides visibility into the Chrome browser session where the student is logged in with their school account, we recommend that you make sure the class start and stop notifications are used, to provide an extra level of privacy notification to students at home.